MID OHM SET
#MID-SET
$98.00 – $134.00
The Mid Ohm Tuning Fork Set includes two Mid Ohm Tuning Forks (136.1 hz ea), plus 6-panel Instructional Booklet with photos showing how to correctly hold, activate and apply tuning forks, featuring Spinal Treatment (Hua Tuo Jia Ji points).
Use on tight muscles, reflex, trigger and acu-points. The Mid Ohm Set is recommended for working bilaterally and distally on the body, and for doubling the healing resonance. The Ohm unison promotes balance.
To receive either the Activator or the Practitioner Activator at a 20% discount, choose from the options below.
---
Product Details
Vibrational healing using two Mid Ohm Tuning Forks enhances many treatment modalities, and is highly effective when applied to the acupuncture points and the body's meridian system. Ohm Tuning Forks are an effective option for needle sensitive patients and children, and work well in conjunction with traditional needling techniques for accessing and nourishing the Qi. Instructions also include anatomical placement for Massage, Physical and Sport Therapists.
Use Mid Ohm Tuning Forks to access Qi and the body's energetic pathways, relax tension, energize tired muscles, and promote healing. Applied vibration can help reduce swelling and inflammation, and ease pain. Use to help alleviate symptoms from repetitive stress injuries (e.g., Carpal Tunnel Syndrome), tendonitis, tension headaches, clenching related to TMJ, and to balance and equilibrate the body.
RECOMMENDED FOR PROFESSIONAL USE AND SELF-CARE
Acupuncturists, Massage, Sport and Physical Therapists are among a diverse range of healthcare practitioners who incorporate applied sound with tuning forks into their healing practices. The Mid Ohm Tuning Fork helps reduce swelling and inflammation; at 136.1 hz, it is in the frequency range (50-150 hz) that is shown to help build and strengthen bone.
UPC 855805-001185
Integrating the use of tuning forks into your massage session can help your clients reach a deep state of relaxation and experience a restored sense of well-being. I used two Mid Ohm Tuning Forks symmetrically on acupressure points with the intention to move stagnant energy. I also tried them for relieving joint pain in combination with de Muynck's CD, There's No Place like Ohm, and found them beautifully effective."
~ Massage Therapy Journal
---
What's Next? Add An Octave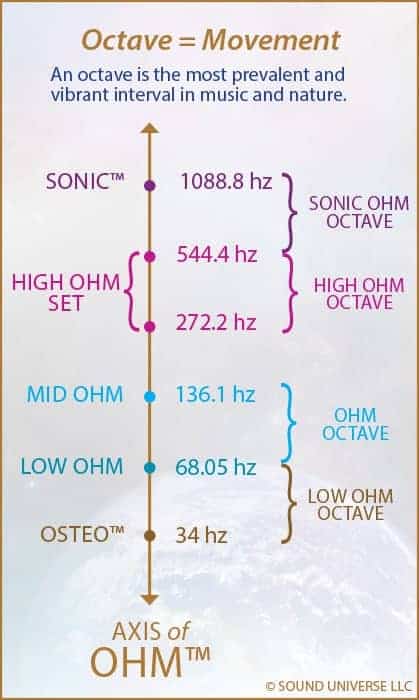 To expand your treatment options, combine one Mid Ohm Tuning Fork with a Low Ohm Tuning Fork to create the Ohm Octave. The Ohm Octave promotes movement, which helps to clear blockages and dispel stagnant energy, while strengthening and nourishing the Qi.
See Diagram for further information about the beneficial use of Octaves.

---