---
OHM THERAPEUTICS
TUNING FORKS
Made in the USA by Ohm Therapeutics. Medical grade aluminum tuning forks are free of impurities and precision tuned to within .5% of indicated frequency. Enjoy the therapeutic benefits of a pure, extended ring tone. A superior alloy makes for a surface finish that is pleasing to handle and resistant to corrosion.
Ohm Therapeutics tuning forks are not colored, to reduce environmental impact. Both anodizing and painting (which requires an additional degreasing process) are extremely toxic to the environment.
Ohm Therapeutics Tuning Fork Frequencies: The Mid Ohm is the classic Ohm frequency, and is middle range at 136.1 hz. The Low Ohm is one octave lower and measures at 68.05 hz. The Osteo™ Ohm measures 34 hz. The High Ohm Tuning Forks are higher octaves of Ohm, respectively 272.2 hz and 544.4 hz. The highest frequency we offer is the Sonic™ Ohm Tuning Fork at 1088.8 hz. The hertz measurement, otherwise known as cycles per second, is the numerical representation of the vibrational tone of Ohm.
Luna™ Tuning Forks and the Planetary 5th: The frequency of the Mid Luna Tuning Fork is 210.42 hz; it is the measured frequency of the synodic phase of the new moon; the Low Luna is one octave lower at 105.21 hz. Combine Luna with Ohm to create the Planetary 5th.
Custom frequencies are available on request. Please email the Hertz Frequency and Quantity so we can provide you with pricing.
HOW TO TELL IF
IT'S THE REAL DEAL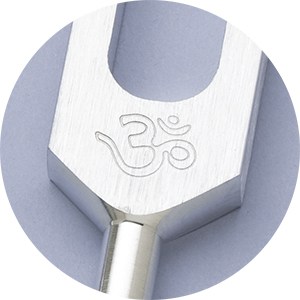 To distinguish Ohm Therapeutics Tuning Forks from other "Ohm or Om tuning forks," we have engraved the Ohm symbol on one side of the throat of tuning fork, and ohm therapeutics on the other side. The bottom of the stem of each tuning fork is sanded smooth to ensure maximum comfort when the tuning forks are applied to the body. Read more about what sets us apart.
Grounded in traditional chinese medicine (TCM) Because sound travels deeply in the body, it accesses hard to reach places. Applied sound is beneficial because it can deepen and enhance the effects of other healing modalities. Recommended treatment applications are non-invasive, utilizing acu-points and the body's meridian system. For ease of use, photos and medical illustrations show anatomical placement. Tuning Fork applications readily combine with healing protocols from the following disciplines: Shiatsu, Cranial-Sacral, Trigger Point, Polarity, Massage, Physical and Sport Therapies, Chiropractic, Acupuncture and subtle body therapies that include Reiki, EFT, and other practices that balance the body's vital energy centers and attune the Chakras.
OHM THERAPEUTICS
A TRUSTED BRAND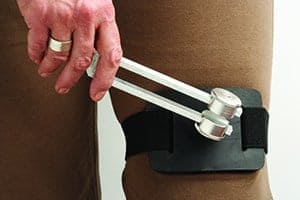 Be an informed consumer. Look at credentials. Use your instinct. Does the rationale of the sound healing system make sense to you? Do you resonate with the frequencies presented? Are treatment applications easy to understand? Do the benefits presented seem reasonable? Are known contra-indications provided?
We trust you will benefit from purchasing quality sound healing tools and appreciate the added value of clear and succinct instructions, featuring treatment protocol grounded in TCM and other well-known Integrative Therapies.
Fully Guaranteed. When you purchase an Ohm Therapeutics Tuning Fork, it is 100% satisfaction guaranteed. Be sure to activate your tuning forks on a suitable surface. Learn about the Importance of a Tuning Fork Activator.
Ohm Therapeutics tuning fork Activator is custom made from a latex-free, certified virgin material. This is beneficial to those with latex allergies. For those with environmental sensitivities, there is virtually no odor or off gassing typical of rubber products. Please look for our label to be sure you are purchasing an Ohm Therapeutics Activator.
With an increased awareness of lead exposure in the news once again, please read the following 4-point statement from our manufacturer. We only work with companies committed to environmentally safe and socially responsible practices.
---
STATEMENT FROM MANUFACTURER
1. We only buy aluminum from socially responsible aluminum companies. Alcoa has made great strides in being environmentally responsible.
2. By buying higher-grade aluminum, we can guarantee that our forks are free of impurities. Testing by an independent lab of foreign-made tuning forks (China, India) several years ago revealed a high lead content in the aluminum. Now, the chemical composition of every aluminum receipt is carefully monitored. 100% of our product is tested for proper tuning and ring-time. Substandard product is immediately scrapped.
3. A safe workplace is provided for employees who receive fair pay and a living wage. The manufacture of tuning forks is labor intensive, so we keep experienced staff.
4. Our manufacturing facility is now 100% solar powered!