---
MASSAGE THERAPISTS
Ohm Therapeutics is a simple and effective method of applying Ohm Tuning Forks to the body, including muscle groups, acu-points, trigger and reflex points. Applied vibration creates kinetic movement, which helps to relax muscular tension, move stagnant energy and relieve pain.
Therapists can easily incorporate vibrational healing applications into their treatments. The photo above with illustration shows a cranial-sacral application. This distal application helps to balance and equilibrate the body, creating resonance and energy between the head and lower back. The acu-points at the back of the head and sacrum provide tremendous benefit and relief (e.g., headache and low back pain), and are very well suited to tuning fork placement.
APPLICATIONS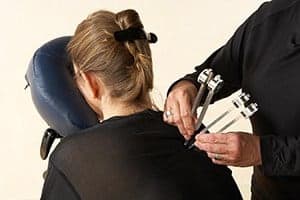 Photo to left shows a double application of the Mid Ohm unison to the rhomboid muscles. This is an excellent example showing how to use Ohm Tuning Forks to apply direct pressure and cross fiber friction, loosening muscular tension in the region between the shoulder blades. Therapists will find that applied vibration with Ohm Tuning Forks can relieve stress and fatigue to their thumbs, forearms and wrists, while introducing a new therapeutic dimension to their healing treatments.
Application of the Mid, Low and Osteo™ Ohm Tuning Forks helps reduce swelling and inflammation, and stimulates the healing process. Use to alleviate symptoms from the following common conditions: repetitive stress injuries (e.g., Carpal Tunnel Syndrome), tendonitis, tension headaches, and clenching related to TMJ.
OHM
UNISON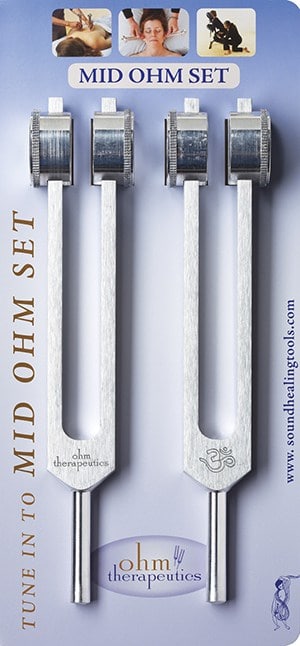 Two Mid Ohm Tuning Forks are the foundations tools of the Ohm Therapeutics system, and are recommended for working bilaterally and distally on the body, and for doubling the healing resonance. Because many treatment applications require two tuning forks, the Practitioner Activator is highly recommended, leaving both hands free for tuning fork application.
Read more to learn about Ohm Tuning Forks and the beneficial use of Octaves.
SPINAL APPLICATION

Apply two Mid Ohm Tuning Forks along the spinal reflex points to activate Qi and to nourish and energize the entire body. Collectively, these points balance and relax the entire nervous system, and are located along the Microcosmic Orbit of the body.
Applied vibration to the spinal points relaxes the musculature of the back and helps adjust vertebrae. Bones are hollow and watery, making them resonant chambers. Sound waves travel extremely well through water. The body is 70-80% water, making it an excellent conductor and resonator of sound.
Benefits to the physical body result as the vibratory tones travel through the inner landscape of the body to help remove blockages, alleviating stasis and pain, and increasing the flow of vital energy. The Chakras are also located at energetic centers along the Microcosmic Orbit. Benefits to the subtle body include energetic clearing and release, and the restoration of harmony and balance.
*This spinal treatment is one of 25 treatment protocols presented in Sound Healing: Vibrational Healing with Ohm Tuning Forks.
Relaxes muscular tension
Reduces swelling and inflammation
Energizing and revitalizing
Relaxes adrenals, relieves stress and equilibrates whole body
Promotes healing of strained muscles, tendons and ligaments
Alleviates blockages, dispels stasis, and nourishes the Qi
The Ohm vibration is a powerful catalyst for accessing the body's innate healing ability. Restorative and energizing, Ohm is clinically shown to be a safe, effective and therapeutic sound healing frequency. Read more to learn about Ohm Tuning Forks and the beneficial use of octaves.
---
VIDEO TRAILER
Treatment samples shown on this 3.5 minute video trailer include:
Spinal Treatment: 2 Mid Ohm Tuning Forks, Bilateral Application
Top of Shoulders: 2 Mid Ohm Tuning Forks, Bilateral and Double Application
Sound Facial™: 2 Mid Ohm Tuning Forks, Bilateral Application
Ohm Singing and Ohm Crystal Bowls
Energetic Body: High Ohm Octave Tuning Forks, Rolling Technique
Music playing with video is sampled from the CD There's No Place Like Ohm Volume 2. 
---
The following anatomical areas are contraindicated during pregnancy: low abdomen, top of shoulder and sacral points. Acu-points: Ren 4-6 (low abdomen); GB 21; LI 4; BL 60; Sp 6; and UB 31-34 (sacral points). If an individual has a pacemaker it is recommended to use tuning forks distally and reflexively on other areas of the body and not directly in the area of the heart.
"Integrating the use of tuning forks into your massage session can help your clients reach a deep state of relaxation and experience a restored sense of well-being. I used two Mid Ohm Tuning Forks symmetrically on acupressure points with the intention to move stagnant energy. I also tried them for relieving joint pain in combination with de Muynck's CD, There's No Place like Ohm, and found them beautifully effective."
- Massage Therapy Journal
---
GROUNDED IN TRADITIONAL
CHINESE MEDICINE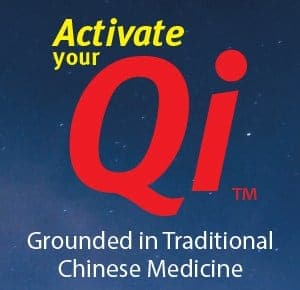 SaveSave
Because sound travels deeply in the body, it accesses hard to reach places. Applied sound is beneficial because it can deepen and enhance the effects of other healing modalities. Recommended treatment applications are non-invasive, utilizing acu-points and the body's meridian system. For ease of use, photos and medical illustrations show anatomical placement.
Tuning Fork applications readily combine with healing protocols from the following disciplines: Shiatsu, Cranial-Sacral, Trigger Point, Polarity, Massage, Physical and Sport Therapies, Chiropractic, Acupuncture and subtle body therapies that include Reiki, EFT, and other practices that balance the body's vital energy centers and attune the Chakras.
To learn more, or if you are interested in sponsoring a class, please visit our education page.
---