---
Ohm Therapeutics is a simple and effective method of applying Ohm Tuning Forks to the physical and energetic body, including acu-points, trigger and reflex points, to help nourish the Qi, move stagnant energy and relieve pain.
Ohm Therapeutics is a comprehensive sound healing system featuring the universally recognized vibrational frequency of Ohm. Based in science and spiritually upheld, Ohm is an ancient and sacred tone and mantra celebrated by cultures throughout the world for its healing properties. To resonate with Ohm is to unite with the life-supporting energy of the Earth, which positively affects our biological rhythms and circadian clock. Through sympathetic resonance, we begin to sync and entrain with natural cycles. Aligning with these earth rhythms enables us to find balance.
The application of sound vibration to the physical and subtle body opens the energetic pathways where the Qi or natural life force flows. As a result, energy blocks are removed—increasing the flow of Qi—facilitating homeostasis through which profound healing begins. Ohm Therapeutics features Music + Tuning Forks tuned to this sacred healing frequency.
The addition of the Luna Tuning Forks is a natural extension for the Ohm Therapeutics Sound Healing system. The moon rules the water element, thus affecting the ebb and flow of the Earth's tides, as well as constitutional fluids of the body. The Planetary 5th introduces the second most prevalent interval after the octave, and provides unique opportunities for the healing arts practitioner. Like Ohm, Luna works with the innate intelligence of the body, dispelling excess and nourishing deficiencies, to bring balance and homeostasis.
What Sets Us Apart?
---
OHM THERAPEUTICS
GUIDING PRINCIPLES
1 ∙ A belief in the body's natural healing intelligence.
2 ∙ A knowledge that we are made of vibration.
3 ∙ A belief that applied vibration with Ohm Therapeutics Tuning Forks helps to remove blockages in the body's energetic pathways.
4 ∙ An understanding that an individual's biorhythms and cycles are intimately connected to those of the Earth and its moon.
5 ∙ A belief that sympathetic resonance with the Earth helps to restore balance, establishes homeostasis, and promotes healing.
SOUND UNIVERSE, LLC represents the clinical experience and works of Marjorie de Muynck, M. Mus., MSOM, Hon., a pioneering innovator in the field of Sound Healing. Ohm Therapeutics is the name of the Sound Healing system de Muynck developed, featuring the therapeutic application of tuning forks, music, and bowls to the physical and energetic body. In this vibrational healing system, de Muynck focuses on the therapeutic qualities of one tone—Ohm—and octaves of this frequency (Ohm/136.1 hz). There's No Place Like Ohm® is a company trademark, as well as the title of de Muynck's musical works in the key of Ohm™. Lemniscate Music is the name of the record label for publishing sound recordings.Sound Universe offers quality tools and instruction for individuals and healthcare professionals to explore the many benefits of Sound Healing. Featuring beautifully packaged, retail-ready tuning fork kits and sets with abundant instructional information, Ohm Therapeutics is known at home and abroad as a leading producer of quality sound-healing tools since 2003.
Medical grade tuning forks are made in the USA for home and professional use. Use these tools to nourish the Qi, balance the Chakras, and attune the vital energy flowing through the physical and energetic body. Vendors will find Ohm Therapeutics offers an exciting range of introductory and professional tools for the holistic marketplace.
Mission: To provide clear, succinct, and practical information about the healing power of sound through Music + Tuning Forks tuned to the sacred healing frequency of OM/Ohm.
Product Range: Ohm and Luna Tuning Forks, Vibrational Healing with Ohm Tuning Forks: Instructional Manual, DVD: Tuning Fork Application, Tuning Fork Primer laminated Chart for Self-Treatment and Treating Others, Sound Healing CDs, Ohm Crystal and Tibetan-style Ohm Singing Bowls.

ABOUT
FOUNDER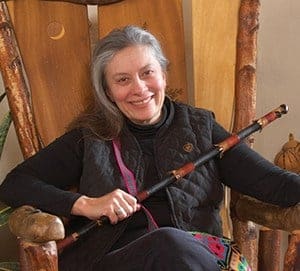 Marjorie de Muynck (1952-2011) was a multi-instrumentalist, composer and author of two textbooks on the subject of Sound Healing. In addition, she pioneered four Sound Healing compositions in the key of Ohm—an alternative tuning not found on the piano keyboard.Always seeking new ways to experience music, sound and vibration, de Muynck creatively synthesized information from a diverse range of disciplines. Her enthusiasm and passion for music, integrated medicine, and the therapeutic potential of sound continue to inspire and influence those who listen to her recordings and read her works.
De Muynck developed two comprehensive vibrational healing systems (Acutonics® and Ohm Therapeutics™) that feature the therapeutic application of sound to the physical and subtle body. Each system is based on the works of astronomer Johannes Kepler, and Swiss scientist and astronomer Hans Cousto. Kepler realized in the seventeenth century that planets have elliptical orbits. This provided basis for the modern calculation of planetary orbits and their associated musical tones or frequencies. This harmonic concept (Musica universalis) in combination with Traditional Chinese Medicine, with its focus on the body's meridian system and acu-points indicated for healing, provide the foundation for each of these vibrational healing systems.
SaveSave
SaveSaveSaveSave
SaveSave
SaveSave