OHM OCTAVE SET
#OHM-OCT
$120.00 – $134.40
Package includes one Mid Ohm (136.1 hz) and one Low Ohm (68.05 hz) Tuning Fork, Activator (latex-free), plus 8-panel Instructional Booklet. Photos show how to correctly hold, activate and apply tuning forks. Instructions include an overview of Sound Healing, information about octaves and overtones, and recommended applications, including treatment for lower back/sacrum.
To receive the Tuning Fork Primer Chart at a 20% discount, please choose the #OHM-OCT + #TF-CHART option below.
---
Product Details
The Low-Ohm Tuning Fork has a deep and earthy reverberating quality, while the Mid-Ohm Tuning Fork is calming and balancing. Together, these tuning forks produce the Ohm Octave, a grounding and energizing musical interval. Use on tight muscles, reflex and acu-points to loosen stuck or rigid energy while opening the energetic pathways or meridians of the body. The Ohm Octave promotes movement, which helps to clear blockages to dispel stagnant energy, while strengthening and nourishing the Qi.
Treatment applications and directions feature healing protocol rooted in Traditional Chinese Medicine (TCM). Acu-points and anatomical placements are illustrated, for ease of use. Sound Healing with Ohm Tuning Forks is a non-invasive, complementary therapy to the following disciplines: Shiatsu, Cranial-Sacral, Trigger Point, Polarity, Massage, Physical and Sport Therapies, Chiropractic, Acupuncture, and subtle body therapies that include Reiki, EFT, and other disciplines that balance and harmonize the body's vital energy centers.
UPC 855805-001031
As a Doctor of Traditional Chinese Medicine, I often incorporate these acu-points into the sound healing treatments I give. The sound vibration of the Ohm Tuning Fork is unifying and brings harmony to both heart and mind. Marjorie de Muynck's Manual & DVD are fantastic educational tools for both the health care professional & anyone intent on learning to use sound for personal benefit."
~ Samantha Jennings, DR.TCM, R.AC. Practitioner and Educator of Oriental Medicine
---
What's Next? Add An Octave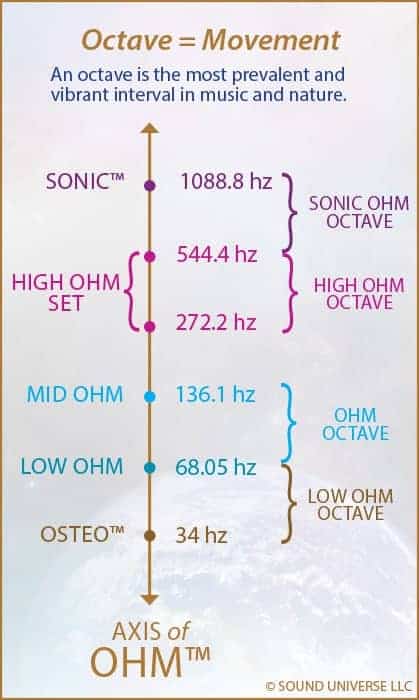 To expand your treatment options, combine Low Ohm (from your Ohm Octave Set) with Osteo Ohm Tuning Fork to create the Low Ohm Octave (68.05 hz + 34 hz). The Low Ohm Octave combines the therapeutic attributes of the lower frequencies with the cathartic movement created by the octave. Recommended for treating joint and bone pain, and chronic conditions of the lower back.
See Diagram for further information about the beneficial use of Octaves.

---