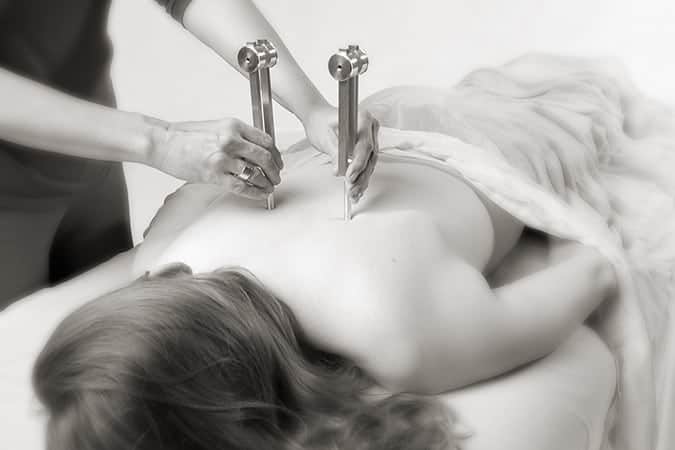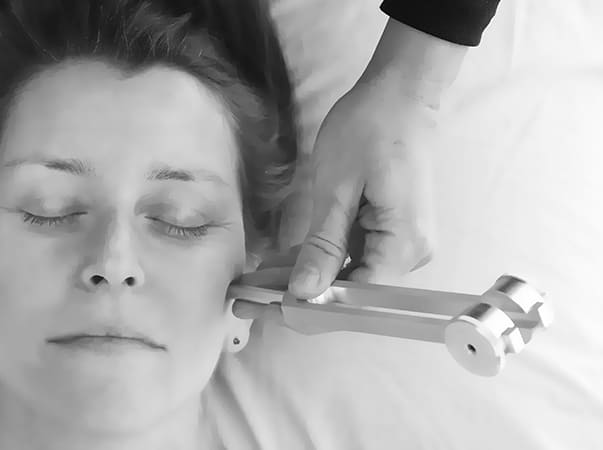 ---
SPA TREATMENTS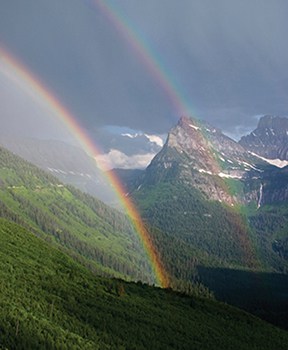 Sound Rejuvenation with Ohm Tuning Forks complements many treatment modalities, adding a synergy to deepen and enhance the healing experience. Other frequency-based modalities include acupuncture, essential oils, and chromo or light therapy. Ohm Therapeutics is a vibrational healing method featuring applied sound with Ohm Tuning Forks, soothing music in the key of Ohm, and Crystal and Tibetan-style Singing Bowls. To preview how relaxing and harmonizing these musical tones are when experienced together, please visit Listen page. Then imagine the experiential effect of these tones when applied to the body!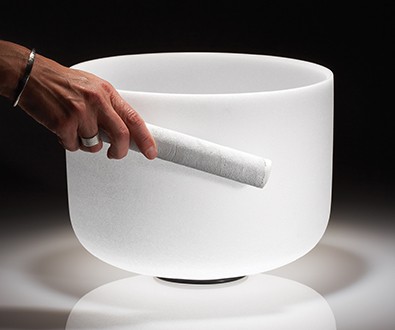 Ohm Therapeutics features sound healing applications for attuning the physical and energetic body to Ohm (OM), a frequency central to many yoga traditions, and long associated with the Earth. Ohm is an ancient and sacred tone celebrated by cultures throughout the world for its healing properties. To resonate with Ohm is to unite with the life-supporting energy of the Earth, which positively affects our biological rhythms and circadian clock. Through sympathetic resonance, we begin to sync and entrain with natural cycles. Aligning with these earth rhythms enables us to ground, balance and center. It is the healing power of Nature.

How it Works: The application of sound vibration opens the energetic pathways where the Qi or natural life force flows. As a result, blockages are removed, increasing the flow of Qi, and facilitating homeostasis through which profound healing begins.
A simple yet elegant healing system, Ohm Therapeutics is easily incorporated into treatments ranging from Shiatsu Massage, Chakra Balancing and Acupuncture to Shamanic sessions and Sound Facials. The Spinal Treatment features acu-points located next to the spine, between the transverse process of each vertebra, from the cervical through the sacrum. These points are known as the Hua Tuo Jia Ji Points, (pronounced Wah Too Oh Gee Ah Gee), in Chinese medicine. Applied sound to the spinal points combines well with many holistic treatments, benefiting the entire body.
Recommended treatment applications are non-invasive and utilize acu-points and the body's meridian system, as well as muscle groups, tendons, reflex and trigger points. Instructional materials include photos and medical illustrations that show anatomical placement, so a background in Oriental Medicine though helpful is not required.
The Ohm vibration is a powerful catalyst for accessing the body's innate healing ability. Restorative and energizing, Ohm is clinically shown to be a safe, effective and therapeutic sound healing frequency. Read more to learn about Ohm Tuning Forks and the beneficial use of octaves.
SPINAL APPLICATION

Apply two Mid Ohm Tuning Forks along the spinal reflex points to activate Qi and to nourish and energize the entire body. Collectively, these points balance and relax the entire nervous system, and are located along the Microcosmic Orbit of the body.
Applied vibration to the spinal points relaxes the musculature of the back and helps adjust vertebrae. Bones are hollow and watery, making them resonant chambers. Sound waves travel extremely well through water. The body is 70-80% water, making it an excellent conductor and resonator of sound.
Benefits to the physical body result as the vibratory tones travel through the inner landscape of the body to help remove blockages, alleviating stasis and pain, and increasing the flow of vital energy. The Chakras are also located at energetic centers along the Microcosmic Orbit. Benefits to the subtle body include energetic clearing and release, and the restoration of harmony and balance.
*This spinal treatment is one of 25 treatment protocols presented in Sound Healing: Vibrational Healing with Ohm Tuning Forks.
SOUND FACIAL ™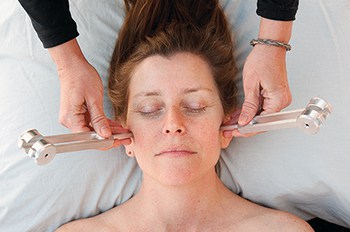 When the entire body is synergistically flowing with Qi, it is positively expressed in the face. Many years ago my mother said "we make our face," meaning that our face reflects our history, attitudes and overall health.
The acupuncture meridians that flow through the face, flow through the rest of the body. Sound travels through these meridians—and when the energy is connected—it creates a harmonious body. When the whole body is treated, the benefits, reflected in the face, are profound and lasting.
~ Marjorie de Muynck, M.MUS., MSOM, HON
Creator of Ohm Therapeutics
RESONATE WITH THE EARTH FOR HEALTH AND WELLNESS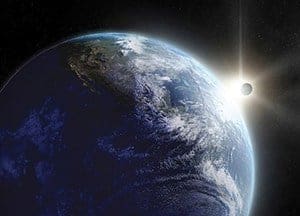 The sound waves created by Ohm Tuning Forks travel deeply to promote balance and attune the body on a cellular level. The body naturally resonates with and responds to the earth tone of Ohm. The reason for this is because the Ohm vibration is a reflection of the earth's orbital path around the sun over the course of four seasons. This connection to seasons and cycles, the rhythms of day and night, make Ohm an ideal frequency to help the body "reset" or return to homeostasis, where profound healing begins.
---
VIDEO TRAILER
Treatment samples shown on this 3.5 minute video trailer include:
Spinal Treatment: 2 Mid Ohm Tuning Forks, Bilateral Application
Top of Shoulders: 2 Mid Ohm Tuning Forks, Bilateral and Double Application
Sound Facial™: 2 Mid Ohm Tuning Forks, Bilateral Application
Ohm Singing and Ohm Crystal Bowls
Energetic Body: High Ohm Octave Tuning Forks, Rolling Technique
Music playing with video is sampled from the CD There's No Place Like Ohm Volume 2. 
---
AXIS OF
OHM ™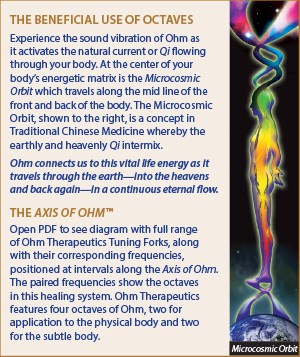 Use Ohm Tuning Forks to relax tight muscles, reduce inflammation, and increase the flow of vital energy essential to healing. Discover techniques to enhance treatments as you ground, center and balance core energy. To learn more about treatment applications, read Introduction to Ohm Tuning Forks and the Beneficial Use of Octaves. This document summarizes how to incorporate vibrational healing techniques for both physical and energetic body into your treatment.
MUSIC IN THE
KEY OF OHM ™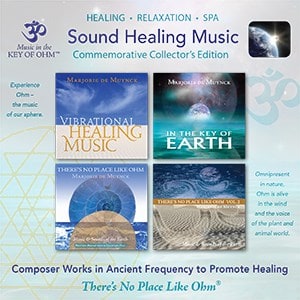 Ohm music is designed to resonate and harmonize with the Ohm Tuning Forks, enhancing their effectiveness during a treatment. Experience the sensation of Ohm— feel the Ohm Tuning Forks as they work, drawing the music into the body, attuning it to the vibration of Ohm.
OHM BOWLS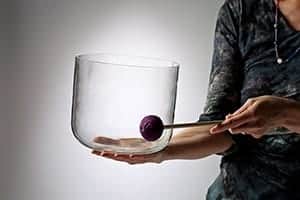 Ohm Singing and Ohm Crystal Bowls will pleasantly fill the room and harmonize with the music and the tuning forks to create a profoundly relaxing atmosphere. For a therapeutic immersion into the deeply relaxing and healing earth tone of Ohm, incorporate Ohm Tuning Forks, Ohm Music and Ohm bowls into treatment rooms.
Resonate with these tones of the earth and tension dissolves in to spaciousness and peace.

 
- East West Books, CA, Lee Starkey
---
The following anatomical areas are contraindicated during pregnancy: low abdomen, top of shoulder and sacral points. Acu-points: Ren 4-6 (low abdomen); GB 21; LI 4; BL 60; Sp 6; and UB 31-34 (sacral points). If an individual has a pacemaker it is recommended to use tuning forks distally and reflexively on other areas of the body and not directly in the area of the heart.
To learn more, or if you are interested in sponsoring a class, please visit our education page.
---