---
Listen
Ohm Therapeutics is a unique sound healing system. All recommended Ohm Tuning Forks, Ohm bowls and music in the key of Ohm harmonize together. You can experience the listening aspect of this through these sound samples. For the feeling aspect, you will need to experience the vibratory sensation of the instruments!
The sound quality will depend on your speaker system. Laptop speakers are typically not designed to provide the best sound. If possible, listen on external speakers, and keep in mind these samples are only a representation.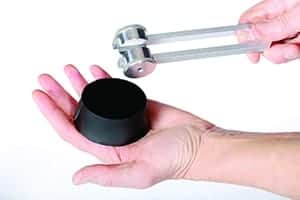 Listen to the sound of the  "activation" of the tuning forks as they come into contact with the Activator.  This marks the beginning of the vibratory experience. These sound bytes demonstrate the actual length of the auditory sound vibration, including the "decay" at the end.
This softening end decay is a vital part of the experience, leading into a quiet or stillness. In this stillness, a "musical rest" occurs, where the body, in its natural intelligence, is able to assimilate Ohm and all its beneficial overtones, and utilize these healing properties on a vibratory level.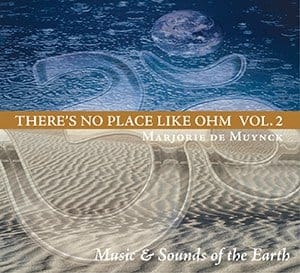 Listen to audio sample from CD There's No Place Like Ohm Vol. 2.
Next, click on audio samples of Ohm Tuning Forks. You will hear how the sound of the tuning fork harmonizes with the music.
Pause the music to hear only the audio files for the tuning forks.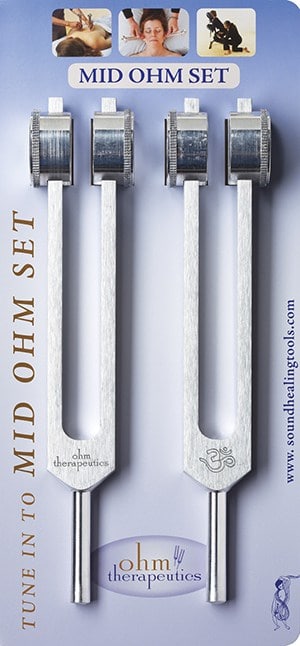 Mid Ohm Tuning Forks (Ohm Unison): This beautiful mid range tone of Ohm (136.1 hz) is soothing and energizing. Ohm represents the cyclical tone of the Earth as it travels around the sun through four seasons.

Ohm Octave Tuning Forks  (68.05 hz + 136.1 hz) are a potent musical interval. Octaves promote movement. The Low-Ohm Tuning Fork has a deep and earthy reverberating quality with higher frequency overtones when activated.
NOTE: The Low Ohm tuning fork is 68.05 hz, and frequencies below 100 hz are difficult to hear through stereo speakers unless you have a sub-woofer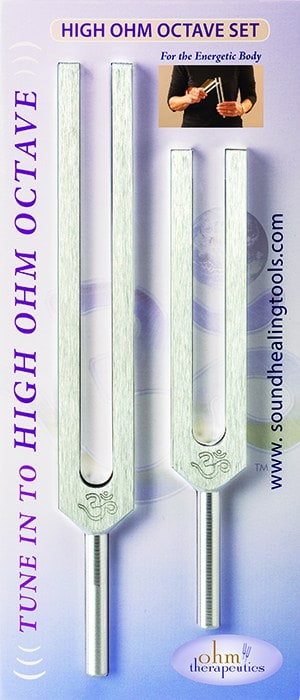 High Ohm Octave Tuning Forks (272.2 hz + 544.4 hz): The sound waves created by the High Ohm Octave move stagnant energy and promote a healthy, unobstructed flow of Qi. Use to release, disperse, balance and harmonize.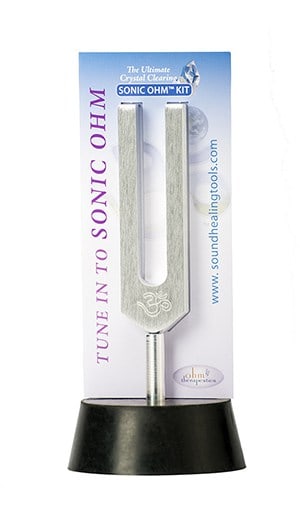 The Sonic Ohm Tuning Fork (1088.8 hz) has a crystalline clarity; it is a higher expression of the Earth tone of Ohm. Use to signal a meditation, dispel unwanted resonance, and to balance and attune the body's vital energy centers, or Chakras.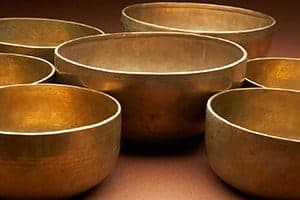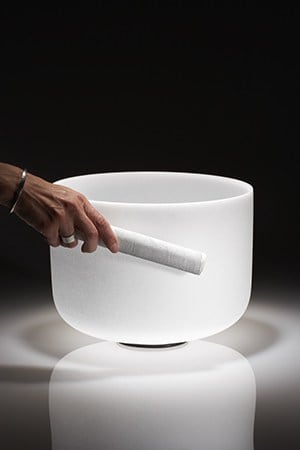 Next, click on audio samples of Ohm Bowls. You will hear how the sound of each style Ohm bowl harmonizes with the audio samples of the Ohm Tuning Forks, and the audio samples from the CD There's No Place Like Ohm, Vol. 2.
Next, play all audio samples on this page together, at the same time!