OSTEO™ OHM TUNING FORK
#OSTEO OHM
$64.95 – $89.95
Package includes Osteo Ohm Tuning Fork (34 hz). Instructional card opens to four panels of photos and detailed instructions for use, including how to correctly hold, activate and apply tuning fork.
HIGHLY RECOMMENDED: Use a Mallet Activator with Osteo Ohm to provide a strong and clear sustain. Purchase together for 25% off Mallet Activator.
---
Product Details
Research indicates that low sound frequency is helpful in relieving pain and reducing inflammation, and can help increase bone density. Results show that the application of frequencies between 25-150 hz promotes the healing of bone, muscles, tendons and ligaments. In particular, the application of vibrational frequencies between 25-50 hz is shown to resonate with our bone matrix and connect to our ancestral DNA/Jing Qi. Use to help relieve both acute and chronic pain, and to help build osteoblasts and osteoclasts. Use as a single application on tight muscles and joints, and on reflex, trigger and acu-points.
RECOMMENDED FOR PROFESSIONAL USE AND SELF-CARE
Sound Healing with Ohm Tuning Forks is a non-invasive, complementary therapy to the following disciplines: Shiatsu, Cranial-Sacral, Trigger Point, Polarity, Massage, Physical and Sport Therapies, Chiropractic, Acupuncture, and subtle body therapies that include Reiki, EFT, and other disciplines that balance and harmonize the body's vital energy centers.
UPC 855805 001154
Ohm Tuning Forks are an essential part of my acupuncture treatments. I use them to stimulate all points that are needled during the treatment to gently stimulate and deepen the point's healing effectiveness, and to tonify the adrenal glands along the kidney channel and boost the immune system along the spleen and stomach channels. I have treated the following with great success: ganglion cysts, arthritic toes and hands, as well as neuromas and neuropathy related feet pain."
~ Margie Parolisi, PHD NCCAOM Certified Practitioner of Oriental Medicine
---
What's Next? Add An Octave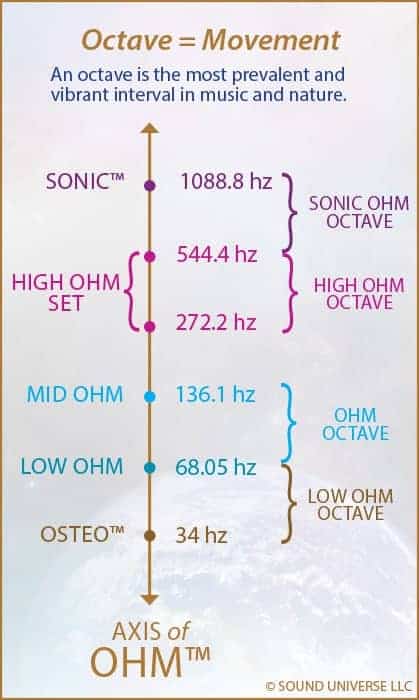 To expand your treatment options, combine Osteo Ohm with Low Ohm Tuning Fork to create the Low Ohm Octave. The Low Ohm Octave combines the therapeutic attributes of the lower frequencies with the cathartic movement created by the octave.
Start by loosening and bringing to the surface blockages or congestion frequently associated with chronic conditions. Next, release and disperse any stasis or stagnation with the affirming repetition of the octave, while strengthening and nourishing the Qi.
See Diagram for further information about the beneficial use of Octaves.

---